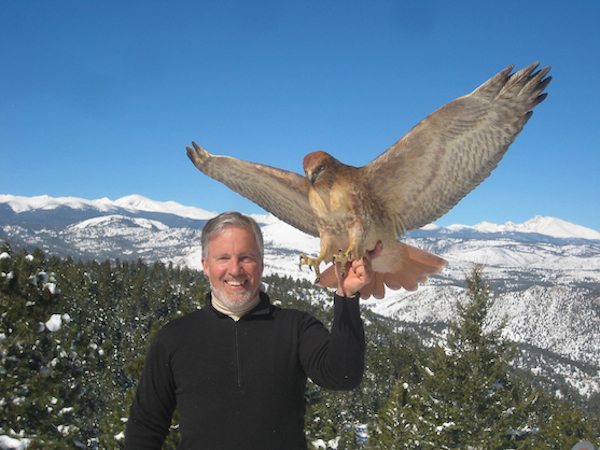 Welcome to the enchanting world of artist, Lueb Popoff. From his mountain studio west of Boulder, Colorado he has created many woodland wild things carved from Ponderosa Pine, Douglas Fir, Aspen, Cottonwood, Elm, Maple, Honey Locust, Black Walnut, Cherry, Ash, Poplar, Tupelo and Basswood.
As a registered tree farmer, Lueb has worked for many years practicing ecosystem management, and maintaining his wilderness landscape. As a forestry artist, Lueb uses his refined chainsaw carving to promote environmental awareness.
With the inquiry form provided, you may contact Lueb to discuss ideas and possibilities for future projects. For those interested in high country adventure, you are welcome to visit his studio on Flagstaff Mountain. Custom, specialty, and on site carving is available upon request. It is important to remember that the pictures on this website are a representation of each work of art. Carvings are similar but not exact replicas. There will be slight variations in each piece.
If you are interested in any carvings you see on this website, please contact Lueb using the Inquiry Page. (See menu at left.) He will be glad to call or e–mail you to discuss specifics, prices, payment, and shipping.





     Hollow Log
     5915 Flagstaff Rd.
     Boulder, Colorado
     80302 USA
     Tel. 303.444.7724
     Last Revised: Sunday, 2015.06.28
This Hollow Log Website was created, and is maintained, by:

      Charles E. Rose
      83080 Oberaudorf, Deutschland

The videos were created by:

     Funky Rooster Productions