The Creative Process
---
On–site Carving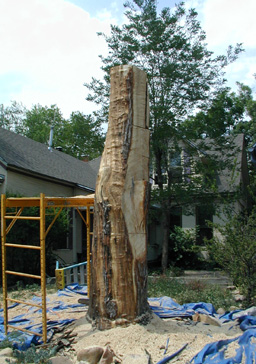 ...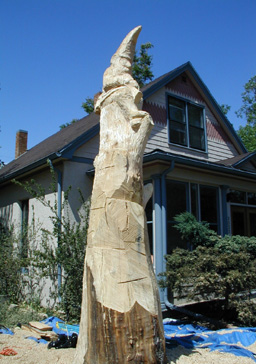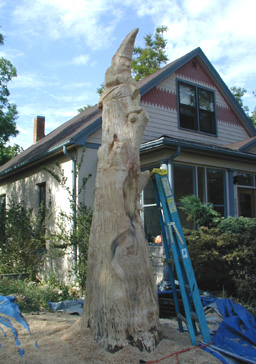 ...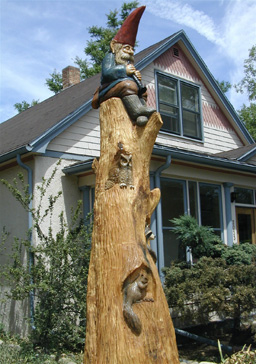 From playful bears to majestic birds of prey, Lueb begins the creative process with his sketch pad. He references each subject for habits and definition from nature books and magazines. For more difficult pieces he makes a clay model.
Once he has "found the animal in the log", he begins work with a chainsaw to cut and shape the wood. Lueb then refines the definition of each piece using a carving disc. Detailing is etched with a rotary tool and chisels. He uses museum quality glass eyes, and then air brushes the carving with colored stains. All of his work is signed and dated.
On‐Site Carving Video
Most of Lueb's on‐site projects take between three days and two weeks to complete.
Here's speedy Lueb carving a two week project in less than three minutes.
Basswood Carving Video
American Basswood, also known as American Linden, is native to all of New England and the Midwestern United States.
This lightweight hardwood displays an even grain structure and a consistent density.
When folks ask Lueb for a high quality carving, laminated Basswood is his preferred choice.



Our Featured Artist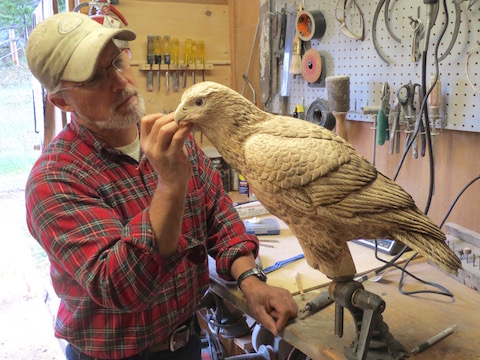 The September 2016 issue of Log Home Living magazine included an article about Lueb.
The article can be read by clicking the following link.

Go to the Log Home Living Magazine